Crime in khaki: UP reports 80% of illegal arrests, detentions in India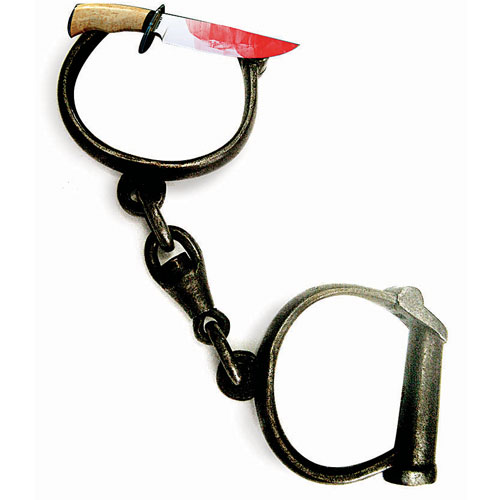 The Akhilesh Yadav government in Uttar Pradesh may be making claims of bringing police reforms, but human rights violations by cops continue to be commonplace in the state. Uttar Pradesh has achieved the unenviable distinction of recording the highest number of illegal detentions and arrests in the country — a staggering 80% of all such cases recorded nationwide.
According to the union ministry of home affairs, at least 3,668 people were illegally arrested across the country in the past three years. Of these, 3,236 cases were from Uttar Pradesh. The rest of the 27 states put together recorded 432 cases such cases.
In 2012-2013, the state reported 589 cases of illegal arrests and 1,331 illegal detentions.
The data pertains to only those cases that were taken up by the National Human Rights Commission. Human rights activists insist that the actual figures are likely to be far higher. "There are a large number of cases that are never reported for various reasons," said Devika Prasad, senior programme officer at Commonwealth Human Rights Initiative, a Delhi-based NGO. Prasad added that NGOs and the government need to work harder to keep a check on police misconduct.
Uttar Pradesh also reported the most number of illegal detention cases. Of the 3,815 such cases taken up by the NHRC, 2,948 were from the state. What's worse, such cases are increasing consistently. During 2010-11, the NHRC recorded 728 cases, while in 2012-13 that number shot up to 1,331.
Delhi is second on both lists, with 170 illegal detentions and 82 illegal arrests made during the same period. An arrest requires a warrant against an individual charged with committing a crime. However, detention means holding someone without any formal charge against that person. Police can detain people on the basis of mere suspicion.
Such cases continue to be reported despite intervention from the highest authorities. The Supreme Court, hearing a petition in the 1997 case of DK Basu versus the State of West Bengal, laid down guidelines required to be followed while making arrests.
The court judgment was circulated to all state governments in July 1997 for compliance. "This (illegal arrests) not only violates the law of the land but also results in gross violation of human rights to which we stand committed," the circular stated. On September 19, 2001, the home ministry reiterated the circular after several violations were reported, but to no avail.
Know your rights during arrests
(i) Police personnel should have clear identification and name tags with their designations.
(ii) The person arrested must be allowed to inform his/her friends or relative about the arrest or detention.
(iii) The arrestee should be subjected to medical examination by a trained doctor every 48 hours during the detention.
(iv) The arrestee may be permitted to meet his/her lawyer during interrogation.